Ceres® long range wireless sensors are designed for outdoor agricultural use.
Ultra-long range
Permanent battery built-in, never needs replacement
Rugged, waterproof, chemical resistant
Extended outdoor operating temperatures
Push-button deployment
Low cost
Extensible
The CS1 Soil Sensor measures and reports soil moisture, and soil temperature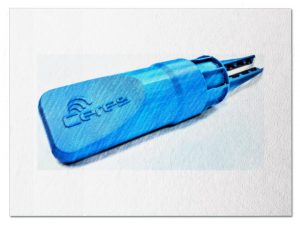 every 15 minutes.  Reports are transmitted via long-range wireless link to the Ceres Gateway receiver for secure long-term storage in the Ceres system.
Ceres® can notify you automatically if your soil is too dry or too wet, or if soil temperature falls below or rises above thresholds temperatures you set.   Knowing current and past soil temperature lets you know when it's safe to plant, allowing you to extend your growing season.  Ceres® helps you decide when and how much to irrigate based on soil moisture and weather forecasts.
In addition to the default sensing features, CS1 options include irrigation valve control, external rain gauge, additional external moisture sensors, etc.
For more information on CS1 soil sensors, please contact Tenetics or your local Ceres® dealer.
Download the CS1 Quick Start Guide
For use in areas with tall crops or significant weed growth, we recommend deploying inexpensive 48″ fiberglass driveway markers with each CS1.
Ceres is a registered trademark of Tenetics, LLC